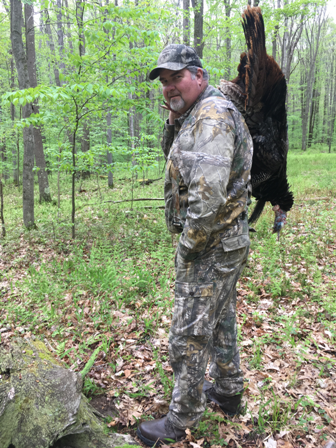 How I Got Started...After 40 plus years of hunting, I had the desire to make my own turkey call.
With some trial and error, I have what I believe to be an excellent sounding series of turkey calls. I love the outdoors! My family and I spend most of our free time outdoors and hunting is our way of life. Turkey hunting is my favorite! There is nothing better than luring a big gobbler away from his group of "girls," convincing him I am the next best thing. Being able to experience the drumming and strutting up close and personal is quite a thrill. I believe that you will be pleased as I am with the calls that we offer. They have been tried and proven true. We currently offer custom turkey calls in a variety of wood made right here in the USA and all of the wood we use is native to home in Central Pennsylvania. Our most popular call is our Cedar Friction Call. It has a clear sounding yelp and the clucks and purrs are spot on! We recently added our Cedar Box Call to the line up. Man is it loud! And coming the Spring of 2016 is our new Black Walnut Friction Series. This one promises not to disappoint. We offer wholesale pricing. We will customize for your organization, your hunt club, your sporting event...even your business. Call us for a quote today. We also customize Cedar Plaques for any occasion. Use them for your business, your home address, to remember a loved one....the possibilities are endless! We would love to hear from you about your success with our calls. Send photos, too!
Bobby Helm harvested this gobbler May 12, 2015 using our Cedar Friction Glass Call.. A 10" beard and 1.25" spurs were recorded.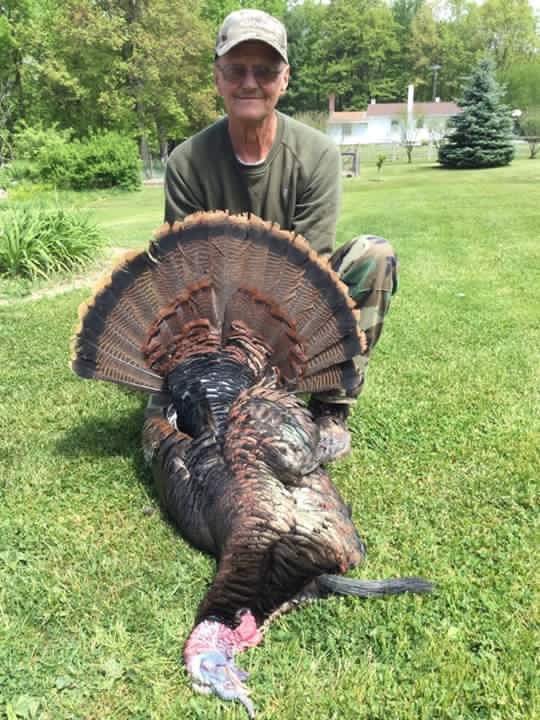 Rod Wagaman harvested this gobbler May 15, 2015 using our Cedar Glass Friction Call. A 9.25" beard and 1" spurs were recorded.
Way to go guys!
You will find our Cedar Friction Glass Calls and more of our products at the retailers listed below:
Keystone Country Store 186 Path Valley Road Fort Loudon PA 17224 717.369.2970 keystonecountrystore.com
Hunters Den 11779 Buchanan Trail E Waynesboro PA 17268 717.765.4606 archery.placefull.com
Keystone Sporting Goods Inc 13611 Pennsylvania Ave Hagerstown MD 21742 301.733.0373 keystone-sports.com
Nace Sports 3381 Hunterstown-Hampton Road New Oxford PA 17350 717.624.3730
Keck's Archery & General Store 1801 Pine Road Newville PA 17241 717.486.3474
Buchanan Trail Sporters LLC 182 Buchanan Trail Ste 175 McConnellsburg PA 17233 717.485.5996
Juniata Trading Co 13921 Lincoln Hwy Everett PA 15537 814.652.5878 juniatatrading.com
DSD Sports 328 West Main St Brookville PA 15825 814.715.7098
Route 66 Sporting Goods 23066 Rt 66 Shippenville PA 16254 814.226.4055 route66sportinggoods.com